Innehållet nedan modereras inte i förväg och omfattas därmed inte av webbplatsens utgivningsbevis.
Snabbkopplingar
Tillbaka till företagsprofilen.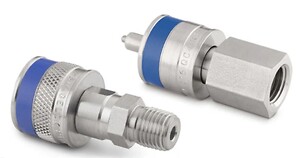 Connect quickly and with confidence. Swagelok offers a variety of quick-connect fittings that enable quick, simple operation without twisting, turning, or wrenching.
Engineered to minimize spillage and air inclusion, our quick-connects are available in a wide range of configurations, stem and body connectors, including single-end shutoff and double-end shutoff models, and an array of end connections.
Models include:
Full-Flow
Instrumentation
Miniature
PTFE-Sealed
Learn more here:
Quick Connects | Swagelok
Fakta om Swagelok Sweden
Adress
Swagelok Sweden
Box 6067
192 06 Sollentuna
Region
Sverige
Stockholms län
Sollentuna kommun
Telefon: +46 8-626 28 00
VAT nummer: SE5561811877
Kontaktpersoner
Damara Andersson
Telefon:

+46 769451116